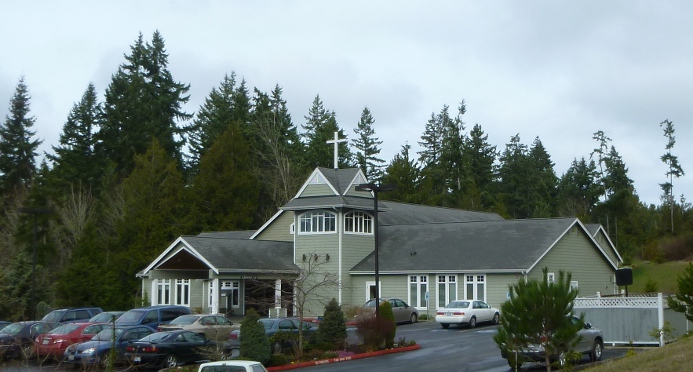 ABOUT US
Redeemer United Methodist Church is a congregation of diverse people from different backgrounds and walks of life. Some of us even come from different faiths! But we have one thing in common: A desire to spread God's love and to make a difference in the world …
Our church is a place where we nurture disciples. A place where people love God and try to show that love in tangible ways. A place where people genuinely care about each other and about others. A place where we feed our faith. A place where we experience peace and real spiritual growth. And a place that strengthens friendships and families.
The congregation held its first worship service on Easter Sunday 1994 at Wolfle Elementary School in Kingston. The service was attended by nearly 120 hopeful parishioners and supporters, excited about the opportunity to worship together, to reach out to others and to be the physical presence of Christ.
The congregation officially became a United Methodist Church in March 1995, with the Rev. Cal White as pastor. Several years later, church leaders began an extensive search for available land on which to build a church structure. The present site, at 9900 Shorty Campbell Road, was purchased in 1999, and a fund-raising effort was launched to raise money for the church building. Construction began on the current facility in 2003 and was completed in 2004.
Today, Redeemer United Methodist Church is an active congregation. We offer a Sunday worship service at 10 a.m., Sunday School classes, small groups, an active youth group, a myriad of outreach programs, social activities, special holiday events and more. We also host concerts in our auditorium, which was built for that dual purpose, as well as regularly scheduled community events throughout the year.
What We Believe
As United Methodists, we believe we have an obligation to live out our faith in the world. We believe the words of Jesus when He said, "I have come that you might have life and have it more abundantly." (John 10:10) And we believe that we need to share this abundant life with others.
Grace is central to our understanding of Christian faith and life. Grace can be defined as the love and mercy given to us by God because God wants us to have it, not because of anything we have done to earn it.
John Wesley and the early Methodists placed primary emphasis on inviting people to experience God's grace ‒ as well as putting faith and love into action. This emphasis, what Wesley referred to as "practical divinity," has continued to be a hallmark of United Methodism today, and what we strive for here at Redeemer.
For more information about what United Methodists believe, visit the United Methodist Church's official website.
Open Hearts. Open Minds. Open Doors.
SUNDAY
SCHEDULE

Sunday Schedule
10 a.m. Worship Service
Fellowship following the service!
Weekly
Activities
Weekly Activities
Project Workshop Ministries
Every other Monday at 10 a.m.
Bells of North Kitsap
Rehearsals
Tuesdays, 5 p.m.
Pub Theology
Thursdays, 7 p.m. at Westside Pizza in Kingston
Worship Service
Sundays, 10 a.m.